The Future of UX: Designing Voice Experience
According to a recent Google's article, 41% of people who own a voice-controlled speaker feel like they're talking to another person. That makes one wonder, is Voice User Interface (VUI) reshaping the human-device relationship? Let's get into the details of voice user interface and how to design a seamless voice experience.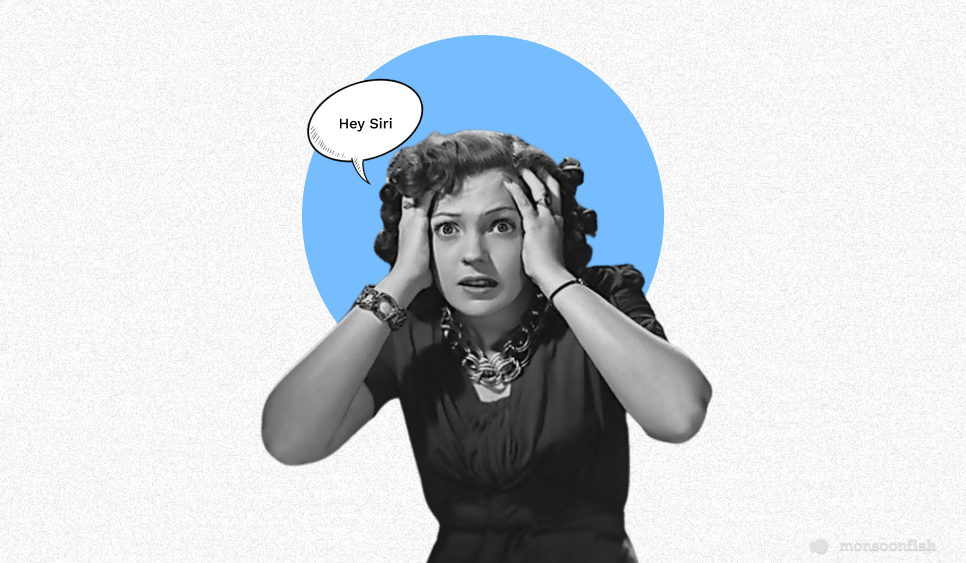 You: Siri, which came first, the chicken or the egg?
Siri: No one knows this, but it was a tie!
Well, who wouldn't want someone like 'Jarvis' from Ironman into their lives to help them do better and faster tasks? Won't you? According to a recent Google's article, 41% of people who own a voice-controlled speaker feel like they're talking to another person. That makes one wonder, is Voice User Interface (VUI) reshaping the human-device relationship? Let's get into the details of voice user interface and how to design a seamless voice experience.
The Voice User Interface has Defeated the Silent Interaction Between Humans and Machines!
We all know and probably also use Apple's Siri, Google Assistant, and Amazon's Alexa. Not only AI assistants but also smart devices with VUIs are taking over the market, such as Amazon Echo, Apple HomePod, and Google Home. AI assistants, a voice-enabled mobile app, or a voice-controlled device; VUI and interactions have become very common.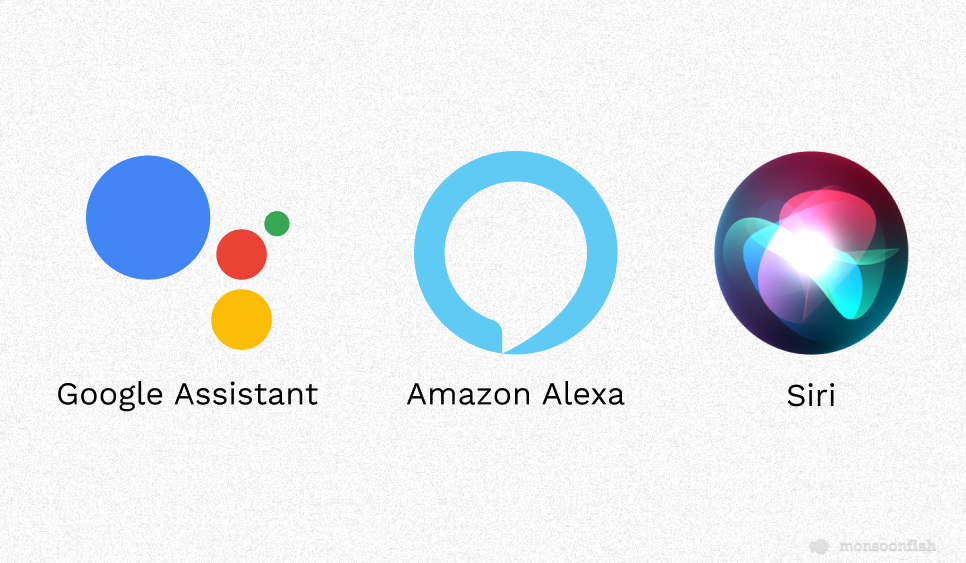 But how and why has this happened? To understand the same, let's dive deeper into knowing VUI better.
What Exactly is Voice User Interface and How does it Work?
Voice User Interfaces (VUI) enable users to interact with a device or an app simply through voice commands. Screen fatigue has become more of a widely experienced issue due to the increased usage of screened devices. And this has emphasized the need for development and usage of voice user interfaces. VUIs provide hands-free, complete control over devices and apps without the necessity of having to look at the screen.
A voice UI is actually a combined result of multiple Artificial Intelligence (AI) technologies, including Speech Synthesis, Automatic Speech Recognition, and Name Entity Recognition, that can be added to devices or inside applications.
AI technology listens and understands the user's intent and sends a response to the device – which makes the basics of a voice UI design. Many companies include a Graphical User Interface (GUI) or even an additional sound effect to offer a better experience to the user. These visuals and sound effects make it easier for the user to know when the device is listening, processing information, or responding back to the request.
Why This is the Next Big Thing – Its Popularity in Recent Years has Surpassed Typing
User interfaces or UI are the bridge that makes interaction possible between machines and humans. The world's leading companies, specifically all the big tech firms like Google, Amazon, Microsoft, Facebook, and Apple, have developed or have been developing their voice-enabled AI assistants and voice-controlled devices.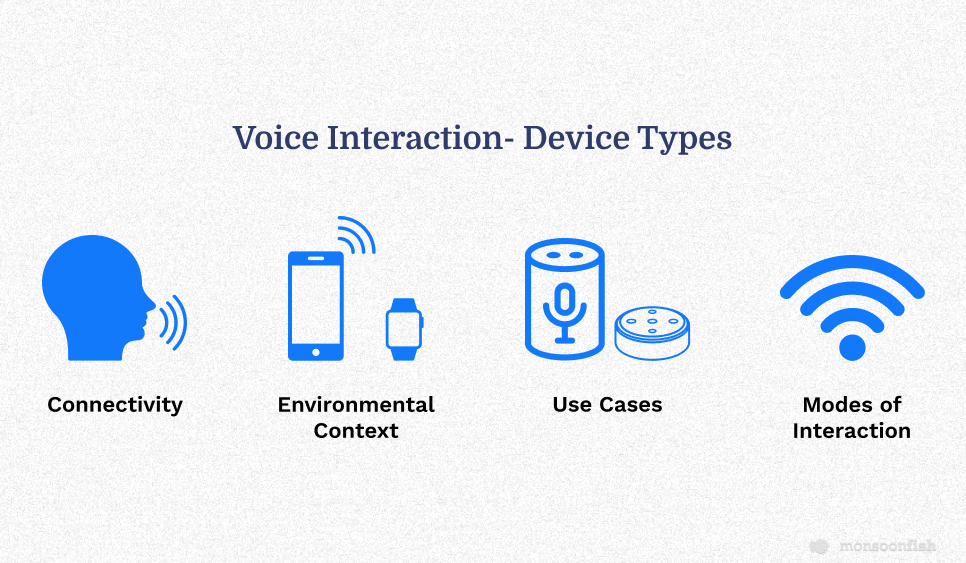 Furthermore, the reason behind the big tech firms developing VUIs makes us wonder about the reality of how many people across the world can read and type vs the number of people who can speak and listen! Research shows that we spend about 9 percent of our time writing, 16 percent reading, 30 percent speaking, and 45 percent listening. This alone will tell you how VUI has the potential to expand access to millions of users around the globe and hence its imperative that products adopt this.
Moreover, there will be handsfree interactions, which can help users to interact even when they're busy with other tasks- like cooking, getting dressed, driving etc.
Today, a wide range of devices can contain the VUI, such as: Smartphones, Wearables like smart wristwatches, sound systems, smart TVs, smart speakers, Internet of Things (IoT); locks, thermostats, lights and many more!
71% of users prefer a voice search in queries instead of typing. Not only that, but the usage of voice-controlled smart speakers is also constantly increasing.
VUI for Designers
This expanding popularity of voice interfaces particularly interests the UX and UI designers, as it's imperative to understand the intricacies of human communication. Users expect a certain level of capability, a conversational tone, and reduced misinterpretations from AI assistants/smart devices. After all, the goal is to answer users' needs and make the experience seamless.
Design for VUI is very challenging and the hard reality is that all the voice assistants you see today in the market for sale are pretty average. They are very far from the intuitive nature of speaking to another person, however, that is what the user expects – as it is a well-known interaction. Touchscreens were not known interactions and hence expectations were never set by the users and they could therefore take their time to evolve around them. However, with voice, that is not the case. Humans have been speaking for a long time and they would expect the same fidelity, quality from a machine. And to make this happen, it's the job of the designer to deliver what the user expects.
With the advent of AI however the machine and quality of human-to-machine interaction would quickly improve and very soon you would feel like you are talking to another human whilst talking to a machine. And then the adoption hockey stick would be crazier than any other tech adoptions in the past!
How to Design VUI that Would Bring Value to Users' Lives?
After conducting a thorough user research and understanding the device persona, the here are the next important steps in the designing process:
Prototyping VUI Conversations with Dialogue Flow
For creating successful VUI dialog flows, it's important to keep the interaction conversational and simple, create a strong error strategy, show confirmation when a task is completed, and add an extra layer of strong security.
VUI designers need to create dialog flows and the entire conversation between the system and the users; for successfully guiding the users. A dialog flow is like a prototype, and a script that covers the back-and-forth conversation, in fact there are prototyping apps that simplify the creation of dialog flows.
Understanding Voice Commands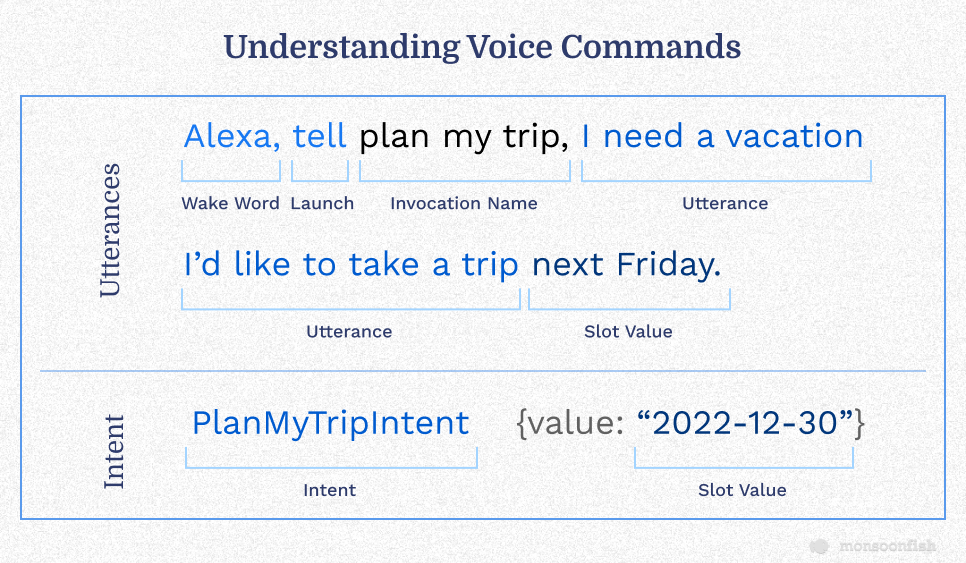 Intent- objective of the user's voice command
A high utility interaction includes very specific tasks, such as requesting your favorite song play on Spotify or commanding the lights in your bedroom to be turned off.
Whereas, a low utility interaction is about performing vague and hard to decipher tasks, such as asking for more information about a topic, the VUI needs to check if it is included in its scope and then asks more questions to understand and respond better.
Utterance- the way a user phrases or utters the voice command to trigger the task.
Some phrases for requests can be simple to understand, like "Play music on Spotify," but voice UX designers need to consider other – not-so-simple and direct variations as well. For example, a user can say "I want to hear music…" or "Could you play…." The more variations designers consider, the easier it is for the AI to understand the request and respond with the right action.
Slot- Variables that are requested from the user to fulfill the task.
For example, if a user requests "Play me calming music," the variable here is "calming." Since the AI can also perform the request without the variable, this slot is optional. But, if a user wants to book a restaurant reservation (for example), the slot here will be the hour.
Best Practices
Write for the ear, not the eye
Alexa hears, and doesn't read! So, it's important to write dialog for spoken conversation. Don't incorporate your school English grammar and sentence formations here! Sentence fragments, contractions, and ending sentences with a preposition are all acceptable if they sound natural in spoken dialog.
Be direct and straightforward
Use unambiguous, direct, easy and clear language. Let the user know that the machine they are interacting with is cooperating with them.
Match a variety of utterances
Remember, your anticipated phrase may not match the one that the user would use for an intent. "Plan a trip," can be also said as "Plan a vacation to Himachal Pradesh." Ensure to provide a wide range of sentences, phrases, and words that users are likely to say, so that the VUI can respond efficiently.
"I didn't hear you!" can cause users to repeat the same phrase that caused the error. Instead, add in information that is more helpful so that users can interact better for the AI to respond correctly; and be as explicit in your directions as possible.
Final Thoughts
The recent times have opened up dialogues on what we want our future UX to look like. Whilst routine and physical interactions will always be important, necessity has fast tracked a lot of positive change that enables more flexibility to do things our own way, with the use of new technology. As technological advancements continue to offer more applications and opportunities for integrating increasingly sophisticated voice user interfaces, gradually becoming an essential part of our everyday lives. As designers we need to be prepared for this because it's not always the limitation of speech technology that's responsible for a bad voice experience! We designers should be well-aware on how to design VUI that results in a seamless and efficient voice interface.