How to Become a UX Designer?
A short guide on how to become a UX designer- understand what UX design is, learn the fundamentals from scratch and find your UX design job with ease.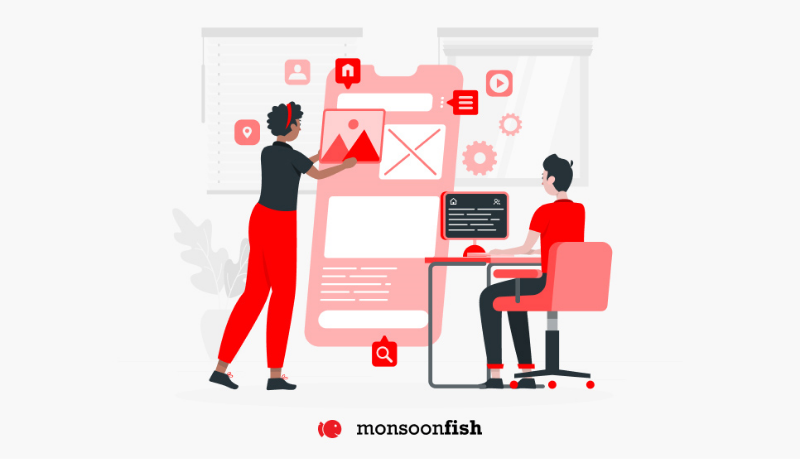 Today, user experience has become an integral part of pretty much every digital product and hence this role has been gaining demand in recent years. This guide would help you take the first steps toward a lucrative career in UX design by providing an overview of the design skills you should learn, the most easily available and good enough UX design training options, different career paths in UX design, knowing how to become a UX Designer, and more.
Let Us First Understand What is UX Design?
The term 'user experience' (or UX) describes the interaction a person has with a digital product or service; it is the process of making any product useful, relevant, and meaningful for the people using it. UX design involves and demands a solid understanding of design and psychology to identify and address real users' problems.
Difference Between UX Design and UI Design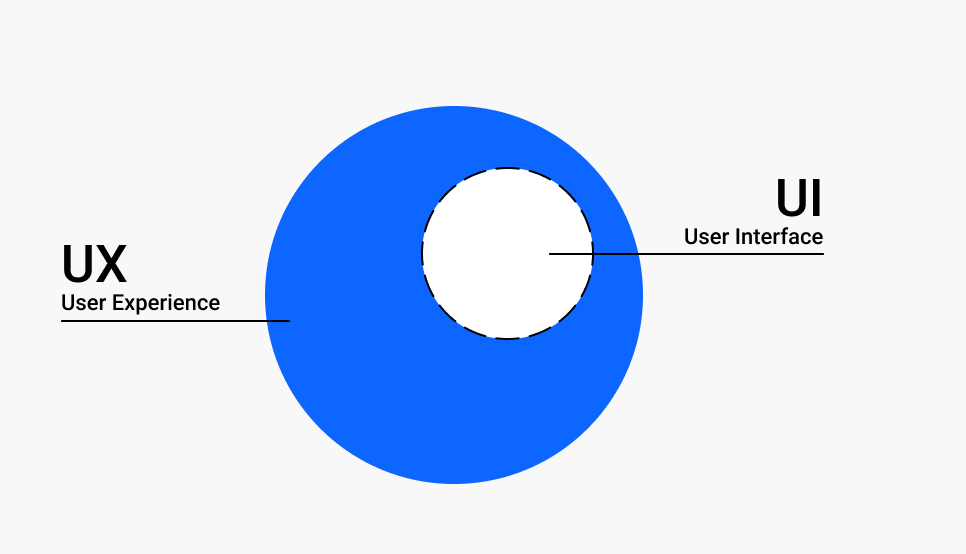 UI design, (also known as 'User Interface design') is all about the visual appearances of a digital product and is a subset of UX design. Both UI and UX designers work together on a project, however, their roles largely vary.
UI designers' core concerns are visual aesthetics and thus the design tools they choose for web/app design are different.
If we consider a food delivery app as an example, UI designers are concerned about how to arrange the elements and layouts so that users can pick their desired food and drinks smoothly.
However, UX designers work in regards to how to offer a pleasant experience while choosing dishes and drinks, including which color scheme can let users feel comfortable, which CTA can evoke users' emotions, which interaction flow can make users feel better, etc.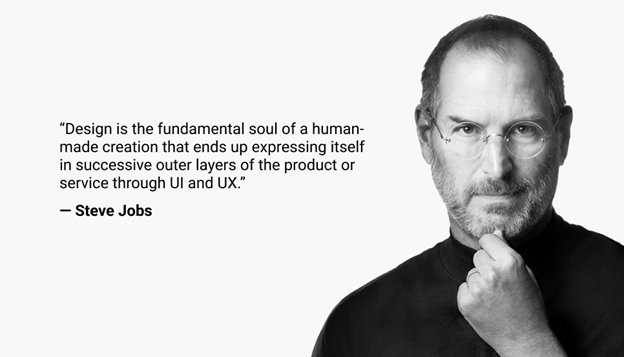 "Design is the fundamental soul of a human-made creation that ends up expressing itself in successive outer layers of the product or service through UI and UX." – Steve Jobs
Consider the task of trying to book a holiday, you'll come across a website or app that's easy to navigate and enables you to quickly find what you're looking for, you've made a purchase and you're done! That's what is known as a good user experience!
What Does a UX Designer Actually Do?
For you to understand how to become a UX designer, it is essential to understand what a UX designer actually does.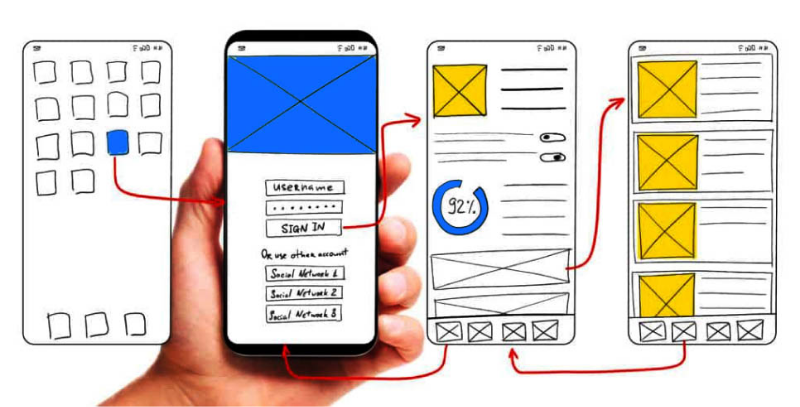 A UX designer deeply understands your users' needs, motivations, and problems and then crafts experiences and flows that solve them. A deep breakdown of the UX designer's process would be:
Spend time to understand the problem in detail that you're trying to solve.
Ideate on several ways to solve the problem by creating low-fidelity wireframes.
Convert wireframes into paths that take users through the entire journey, that is called 'user flow'.
Conduct tests for these experiences to ensure the designs are usable, relevant, and delightful.
Once all of the above is executed appropriately, an app/website is made visually pleasing and consistent, in terms of design.
What Traits Do You Need to Have to Become a UX Designer?
You can learn the technical skills of the UX design process over time, however, it is important to self analyse whether you have the following 'soft' skills that drive your interest in UX design:
Empathy

A UX designer needs to be empathetic, talk to people and try to understand their needs. In UX, empathy enables you to understand not only our users' immediate frustrations, but also their hopes, fears, abilities, limitations, and goals.

Curiosity and Critical Thinking

Curiosity and critical thinking are important aspects to have in a digital world! Curiosity drives the actions of a UX designer to know more and solve the problems better, similarly critical thinking involves considering all the pros and cons of an action designed for the user to be taken, on the product. Both of these are associated with solving business problems and being ready to mold yourself in a career that's constantly evolving.

Creativity

UX designers work closely with UI designers. Creativity helps to look at the same scenario or problem in various ways, which helps UX designers to solve problems in ways that may be obvious but hadn't been thought about in the past. Thus having an inclination towards creativity helps in shaping a much better and refined final product.

Team Player (Collaboration)

UX designers are a part of the entire project and work in collaboration with UI designers, UX writers, clients, developers etc. Thus being a team player and open to collaboration is an essential trait to have to be a UX designer.
Now, Let's Discuss How to Become a UX Designer
Research and Understand the Fundamentals of UX Design

Start immersing yourself into content created for beginners (like this guide!) and anything that can help explain the UX process and what it's like to work in the industry.

To describe it in brief, as a UX designer, your job would be to advocate for the user while keeping business stakeholders happy. Basically, understanding who your target users are, identifying what they need and expect from the product you're designing, and then drawing on a solution that is user-friendly, technically feasible, and also viable in terms of budget and business goals.

Furthermore, you can read these easy to understand, bestseller books to get some basic brief about UX before signing up for a full-fledged course:

Don't make me think – by Steve Krug. Simple words have been used to explain how to create a web/app with the best UX.
The design of everyday things – by Don Norman. Learn how and why some products satisfy customers, while others only frustrate them1
101 Design Methods – Vijay Kumar. UX design for newbies, every simple design step is paired with examples and explanations.

Take an Online UX Design Course

As you must have realised by now that there's an overwhelming abundance of content available on how to become a UX designer; but you still need a structured, hands-on approach for learning, to turn yourself into an employable UX designer.


Here are a few courses you can opt for:

UX design courses on Coursera: No matter whether you are a beginner or an expert in UX design, you can find your desired course with multiple languages options.
Guided user experience courses on Treehouse: This is another ideal option for UX design beginners to find a user experience design class to take online.
User experience design courses on Udemy: Udemy is widely known for good courses and guided approach by mentors. It includes a special 'User Experience' category to choose from and most course videos can be downloaded.

Learn Key Design Tools

Employers will expect you to be comfortable with at least a few UX design tools like Sketch and InVision, but it's also a good idea to experiment with others, too. Learning the tools is equally important in UX methods and processes.

Here are a few popular tools for various phases of the design process:

User research tools: Lookback.io, Typeform, ReFramer, etc.
Wireframing and prototyping tools: Sketch, Adobe XD, Figma, InVision, etc.
User testing and usability testing tools: UsabilityHub, Hotjar, Optimizely, etc. You can always ask other designers what they have been using and which one is the most commonly used in design firms.

Work on Your Own Projects to Develop Your UX Design Skills

Once you've developed your UX skill set; the next step is to start putting these skills into practise so that you can then build your portfolio to apply for UX design jobs.

There are various ideas for you to practice and improve your design skills:

Find some volunteer projects.
Look for a part-time job.
Redesign well-known projects to showcase your design understanding. Basically, just grab every possible opportunity to practice your design skills and build a worthy portfolio for employers to hire you.

Create a Portfolio

Your portfolio is your most valuable asset as a UX designer, it is a personal website that introduces you and showcases a selection of your work.

Your portfolio should be a genuine reflection of who you are and what you know about UX design.

Make sure that every project in your portfolio tells a story about the project, without missing out on your unique skills, your process, and the creativity you bring to the table.

There are free online portfolio building websites such as Behance, Dribble, Adobe Portfolio, Pixpa, etc.>

Present Your Portfolio on Different Platforms

Presenting your portfolio on different platforms is equivalent to showcasing your work online. Behance and Dribble are also the most popular platforms where designers showcase their work by uploading their portfolio. You can also add links to your portfolio in your Instagram bio, on LinkedIn, and even on Facebook. You never know, people might go through your work and approach you to offer you a design gig!

Network with Other Designers

In a creative field like design, networking offers many advantages (not just to make your way to a job opportunity) but in terms of connecting with fellow designers will inspire and motivate you- whether it's with like-minded freshers or industry veterans. You'll also discover untold opportunities to learn, and collaborate.

No matter how many articles you read, UX courses you take, or portfolio projects you work on, you'll never feel like you 'know it all' being a fresher; well, we all feel this way! Networking thus, helps to boost your confidence. UX design is a field that is constantly changing, growing and evolving, hence by being an active part of the community, you'll always be progressing and learning.

Apply to Relevant UX Design Jobs

UX design is a vast and broad field that makes it an exciting career. However, this is also what makes it so competitive to land your dream UX design job. With so many different people coming into the industry, the key to getting hired is in writing your own narrative about Who are you? What products do you love to use and why? What made you explore the UX design field? What problems or industries are you genuinely passionate about? And so on.

We're all aware about various online jobs sites where you can apply such as LinkedIn.com, Indeed.com, Meetup.com, Internshala, etc.

There is a huge diversity in UX design job titles, because UX Designers work across many different industries. Here are a few of the most common UX design job titles you may encounter during a job search: UX Designer, User Researcher, UX Researcher, Usability Tester, etc.
5 Tips Every New UX Designer Should Know
The real education or experience starts when you start designing in the 'real world'. The first few months as a UX designer might be stressful but when you land a junior UX designer job, make sure to keep these best practices in mind:
Learn to Listen and Always be Learning Since you'll be new to this field, there will be many challenges in being a designer in the real world. Since you would be collaborating with other professionals, it is important to listen and learn. Collaboration and teamwork are keys to a successful UX career, for users, stakeholders and the entire team.
Find Someone You can Ask 'Dumb Questions' You may face many instances where you would come up with stupid questions in your mind but would hesitate to ask your teammates or seniors. However, not asking them to anyone at all and keeping those doubts unsolved would never let you grow. Hence, find a friend or a mentor who can genuinely guide you through all your questions.
Understand the Problem Properly Before Jumping on to a Solution Remember what you've learned in the courses you completed and the books you've read- UX design is a process and every problem needs critical thinking. Make sure you don't jump to solutions without analysing the problem entirely as this may lead to errors and rework.
Do Speak Up if You Think Something Critical is Being Overlooked Even if you're a fresher, there might be times when your critical thinking may have some aspects which your teammates might have overlooked. In such cases, you feel free to speak up and clear things out so that your team can progress through the project smoothly.
Learn to Take Feedbacks Early and Often Don't wait until it's 'perfect' to get feedback (the word perfect is very subjective). And as a fresher, try not to get too attached to your designs (it's hard not to) but this is just the beginning, there's lots more to learn and gain.
Conclusion
The question of how to become a UX designer, would have gotten some clarity after walking you through the above aspects, however, the best thing you can do on your journey is to just start. Get immersed in the world of UX design through videos, courses, and blogs; follow design studios, designers and be aware of the UX trends. We hope this guide has been helpful to take you through everything you need to master the fundamentals, learn UX, and land your dream job.