Why is 'Dark Theme' Still Trending?
We define dark mode as a mood notion other than something more profound, let us understand what is dark theme and why is dark UI still trending.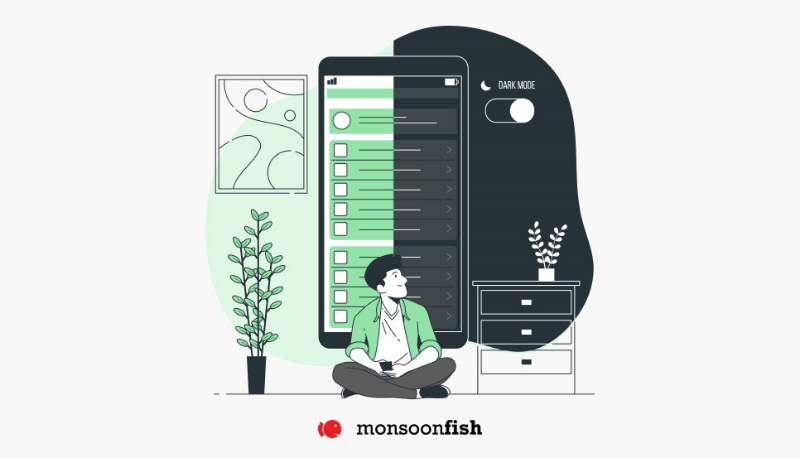 Since the last couple of years, dark mode or dark UI design has been trending, and even though it has modified design applications, reinventing it proved to be attractive for the users.
There are many versions (and rumors) about the history of the dark mode: some say it's blackle.com who started the trend, while others say it's Google, and we've all heard of many other versions.
Nonetheless, let's move on to understand what exactly is dark mode.
What Exactly is Dark Mode or Dark Theme?
Dark mode is a display setting or a supplemental mode that can be used to display mostly dark surfaces on the user interfaces of different devices. It means that, instead of the default white screen/light screen with dark text (known as 'light mode'), a dark or black screen is presented using a light colored text. IOS and android systems offer system-wide dark mode, however, some apps would need individual dark mode set-up.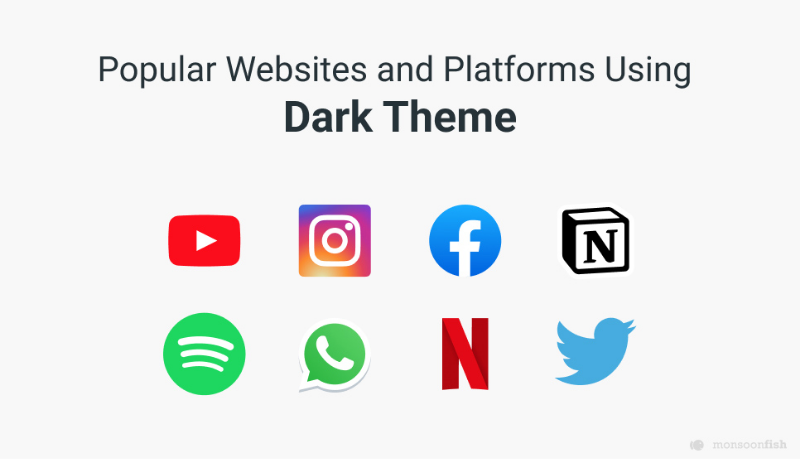 5 Reasons Why Dark Theme is Trending
Let us walk you through some of the prominent reasons as to why dark mode designs are still popular among web design trends:
It is Easy on the Eyes
Most of us spend maximum hours of the day in front of mobile and desktop screens. It's not surprising why many of us deal with eyes that feel dry or itchy, and are sometimes accompanied by insomnia, and heachaches. Also, everyone can relate to being in a room where the lights are turned down and you've got this bright white screen emitting light that's blinding you!
All of this together imposes a great amount of strain on our eyes as it emits plenty of blue light.
Dark themes enhance visual ergonomics by reducing eye strain, facilitating screens to adjust according to the surrounding light conditions, and providing comfort of use even at night or in dark environments.
It is Inspired by Developers and Coders
While the dark mode is gaining popularity by users in recent times, program developers and coders have been working on this theme for a very long time.
Some of the most popular coding text editors, such as Sublime Text, Brackets, Visual Studio Code, etc. all use dark themes. Hence, coders and developers might have influenced this transformation in one way.
Adopted by Tech Giants
Some of us may remember that, many early home computers used monochrome CRT monitors used to display greenish text on black screens. In recent times it was Windows Phone 7 in 2010 that reintroduced dark-colored themes and backgrounds.
We have major tech giants and popular domains that have actively adopted the dark mode and are offering users the ability to shift their viewing preferences as per their choice. These include tech giants like Facebook, Reddit, Twitter, YouTube, WhatsApp, Samsung's One UI, Apple's iPad and iOS 13, to name a few who are offering dark mode or dark theme for users.
These companies and online platforms cater to the majority of the urban-tech population of the world, in turn contributing to the popularity of dark UI.
Saves Power and lowers Battery Consumption
Dark mode apps can help in extending the battery life of your smartphone and other devices. Google has stated

that using dark mode on OLED screens has been of great help for less battery consumption. For instance, at 50% brightness, the dark mode interface in the YouTube app saves about 15% screen energy compared to a flat white background. Moreover, at 100% screen brightness, the dark interface is saving 60% of screen energy.

Search Engines Don't Mind it
To understand the impact of the dark theme on search engines, we have to consider the user experience, as the usability of your website plays a major role now, when it comes to search engine rankings. Hence if you are planning to adopt dark mode for your website or app, then it has to be done right.
The dark mode doesn't affect the SEO but providing the users with a user-friendly experience still remains the priority for ranking.

Examples of Popular Websites and Platforms Using Dark Theme
As we know dark theme has been adopted by tech giants, let's walk you through some of the popular websites and platforms using dark theme:
Netflix
Spotify
Disney Hotstar
Amazon Prime Video
Facebook
WhatsApp Messenger
Instagram
We Transfer
Our Opinion About the Trending Dark Theme


We define dark mode also as a mood notion other than something more profound. The dark UI relates to the color changes in web design interface and mobile design interface. However, it's not only about the color, but also about how it impacts the entire experience the user has while on it, and on how other users see the one using a dark mode.
In our opinion, the dark UI offers the change the users needed, and also provides user comfort which transformed it into a web and mobile design trend.
We hope this article has offered you some good insights regarding why dark mode or dark theme web designs have continued to remain popular among users. For any questions regarding this topic, please feel free to reach us.