services
Best Design Thinking Practices to Redesign
Your Business Journey

through Our Services
We Leverage Smarter Design Thinking to Drive Efficient Outcomes for Your Business
Design Thinking is the backbone of every service and that's what we prioritize more than anything else. Design thinking needs a lot of empathy and we as a team immerse ourselves in the customer's mindset. Stepping into the customer's shoes and observing the world from their point of view in a very empathetic way, gives rise to insights that were completely hidden while wearing various business hats.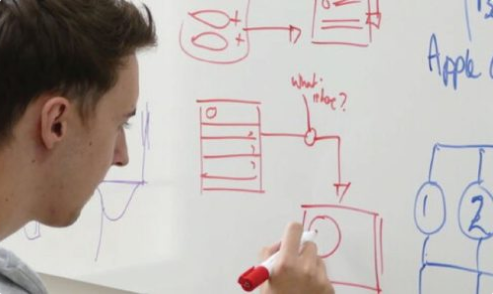 The Process We Follow that Facilitates Our Design Thinking Methodology
Product Strategy and User Research
Understanding the requirements of the digital product, recognizing the audience segment, creating a unique value proposition, and establishing success criteria. Also, identify the audience's demographics, interests, digital behaviors, goals, challenges, motivators, and thus use the data to cater product decisions.
User Journey Mapping, Functionality & Features
Mapping out the complete user experience within mobile apps and across devices to achieve user goals, reduce friction, and meet your success criteria. Features and functionality that balance the ratio of user value to business impact need to be prioritized so that you can save money and accelerate the deliverables.
Product Roadmapping
Defining a clear vision for long-term growth of your digital product and your brand is an essential part of the design thinking process so that you can confidently roll out new and better product versions to support utmost user retention and maintain a competitive edge.
Quick Prototyping
Another important aspect in the design thinking process is creating a clickable prototype to capture feedback on user interactions to further clarify the user experience design. Experimenting with UI screens helps to combine empathy with responsiveness optimally.
Testing and Feedback
Testing and feedback are important aspects of the design thinking process. This step of the process leads back to the first point again (product strategy and user research) and makes the process cyclic.
Design Thinking Strategy Anchors Four Aspects
Prioritizing the End User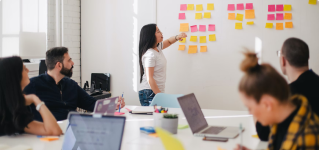 The first and most important aspect of design thinking strategy and solution includes leveraging low-code platforms to stay close to user pain-points and expectations at every stage of the design and development cycle.
Converting Ideations in Processes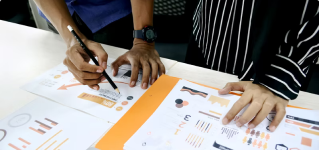 Convert empathy stage learnings to align multi-functional teams to brainstorm ideas by deploying functional prototypes to ensure first-hand transfer of feedback and agile iterations.
Fast Track Prototyping into Final Designs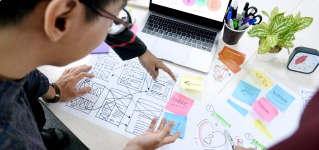 Going beyond building prototypes that closely simulate the final design by expediting collaborative development and extending prototypes with integrations and complex logic.
Adopting Best Practices through Lateral Thinking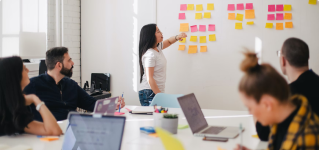 Pre-define design parameters to ensure consistency and custom-crafting critical elements into an efficient digital product starter, thus unleashing the most coherent UX by interpreting best-practices via lateral thinking.
Advantages of Design Thinking Strategies and Solutions
Identify And Prioritize Your Product Features
Design thinking strategy involves deep diving into which features of the products actually matter or affect user behavior positively and thus helps in aligning them or prioritizing them into design to deliver a better user experience for the users.
Validate Ideas Before Investing In Development
Prototyping and usability testing efficiently help to know whether the research and design implementation has been done in the right direction, by gaining validation through real-user feedback, before the product goes into development.
Establish Business Outcomes And Product Vision
"Design thinking helps you seek a balance between intuition and analytics, between exploration and exploitation, between reliability and validity, and between art and science" – Roger Martin
Determine App Metrics And Success Factors
Design thinking services help to create outcomes based on creative thinking and analytical decision-making to anticipate product metrics through UX that truly resonate with the users and deliver high business impact.
OUR SUBSTANTIAL INDUSTRIAL REACH
Which industry do you want design thinking service for? Get a free insight for your business from our design expert
Our Design Thinking Solutions have Made Our Client's Happy!
Client testimonials
The monsoonfish team started with our idea, challenged it, changed it and made it into a product that looks and works great. The team is intelligent, responsive and delivers.
Efficient and good looking UX design, deliveredontime.
The redesign opened up a new market segment.
Their deep user understanding and UX design helped us achieve substantial business outcome faster than we expected.
Himanshu Singh
Townscript
Monsoonfish helped us drastically reduce the GTM of new products and features.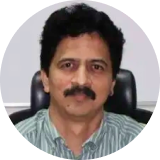 Answers to All Your Design Thinking Questions
What is a design thinking service?
Businesses, while designing an application, service, or even software, get so engrossed into the technical realms that they tend to overlook the emotional connection of the end-user with the product. Design thinking specifically focuses on the end-user by bringing a collaborative approach towards structuring an idea specifically for brands and designers to work together on efficient yet creative solutions that are beneficial to both brands as well as end-users.
What kind of problems can design thinking solve?
Design Thinking is suited to addressing a wide range of challenges and is best used for bringing about innovation and solution within the following contexts:
– Human-centered innovation, shifting markets and behaviors.
– Re-inventing business models and if you have spotted a business opportunity but unsure of the exact product or service needed.
– Somehow users are not responding back to your product.
– You are concerned about the experience and adoption of your solutions.
– In a system or process not performing to your expectations
Is design thinking the only way to solve problems?
Of course not, there are other ways to solve problems, however user experience involves consideration of various factors and aspects and design thinking strategies and solutions are extremely effective in targeting them effectively.
How can you analyze the impact of design thinking project application?
For brands or businesses with concerns such as – 'I am not sure what my users want or what they would like' or 'We have 3 powerful ideas, not sure which way to go'. On projects like these, our strategies, solutions and metrics are chosen to reflect and measure this uncertainty. We bring a mix of qualitative and quantitative data, and measure the impact of Design Thinking intervention in terms of 'reduced uncertainty'.
How is design thinking different from market research?
Market Research is largely focused on 'what is', on the other hand, design thinking helps you move towards 'what can be' and 'what may work', so this helps companies not just uncover insights, but translate insights into ideas and mitigate concerns by testing and refining the concepts with potential users and their feedback.
Still curious about opting for a design thinking service for your business? Schedule a free expert session to get answers to all your questions